Findbearing.com supplies a variety of split housings, including SNL plummer block housing, SN series, SD series, SAF series and so on.  For the details of the optional seals used together with the SNL plummer block housings, please click here.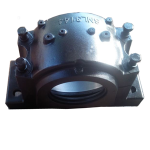 SKF is buying Split Housings from China
There are many housing factories in China, quality varies. Findbearing know where SKF is buying these housings and can supply the same quality product. Meanwhile, you can find similar quality products on much cheaper prices, these products manufactured by people who used to work for SKF split housing supplier. Quality/cost rate is very high.
SD series, SAF series, SNF series, SNHF series plummer blocks… All can be down on SNL style,  top rank appearance, reliable quality, 3 layers painting.
Quality of Split Housing is also a choice.
A good bearing deserve a good housing! And a bad one, may cause many problems and even lead to the damange of bearing or equipment.
Findbearing.com has got claim before on bearing roller damage, one roller is crashed, bearing raceway has apparent burning damage, the sectional location of the burning trace indicate high temperature and extra force in the deep trace section. Bearing is seized under heat swelling.  A final conclusion is drawn after the inspection of the housings. When the roundness of the housing inner groove is too bad, the bearing is under pressure in unnatural force. The force lead to the deformation of bearing which will increase friction and create more heat. The bearing expand with heat and finally bearing is seized and roller crashed.
Customer replaced their split housings source to Findbearings, and since then, no claims anymore.