NUTR yoke type track roller catalogue list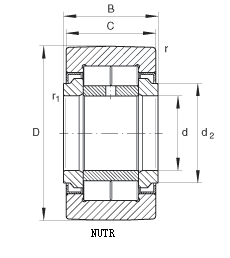 ---
Dimension
Load Ratings
SPEC.1
d
D
B
C
d2
r
r1
C
Co
Cw
Cow
Fr perm
For perm
Limiting speed
NUTR15
15
35
19
18
20
0.6
0.3
23000
27000
16000
18300
8300
16400
6500
NUTR1542
15
42
19
18
20
0.6
0.3
23000
27000
19400
23800
23900
23900
6500
NUTR17
17
40
21
20
22
1
0.3
24800
31000
18500
22800
13200
22800
5500
NUTR1747
17
47
21
20
22
1
0.3
24800
31000
21300
28000
28000
28000
5500
NUTR20
20
47
25
24
27
1
0.3
39000
50000
28000
35000
16500
S
4200
NUTR2052
20
52
25
24
27
1
0.3
39000
50000
31500
41000
38500
41000
4200
NUTR25
25
52
25
24
31
1
0.3
43500
60000
29000
37500
17300
34500
3400
NUTR2562
25
62
25
24
31
1
0.3
43500
60000
35500
50000
50000
50000
3400
NUTR30
30
62
29
28
38
1
0.3
59000
79000
40000
51000
23600
47000
2600
NUTR3072
30
72
29
28
38
1
0.3
59000
79000
48000
65000
65000
65000
2600
NUTR35
35
72
29
28
44
1.1
0.6
65000
93000
45000
61000
32000
61000
2100
NUTR3580
35
80
29
28
44
1.1
0.6
65000
93000
51000
72000
72000
72000
2100
NUTR40
40
80
32
30
51
1.1
0.6
90000
134000
56000
76000
30500
60000
1600
NUTR4090
40
90
32
30
51
1.1
0.6
90000
134000
66000
96000
84000
96000
1600
NUTR45
45
85
32
30
55
1.1
0.6
95000
147000
56000
79000
31500
61000
1400
NUTR45100
45
100
32
30
55
1.1
0.6
95000
147000
72000
10800
106000
108000
1400
NUTR50
50
90
32
30
60
1.1
0.6
10000
161000
57000
81000
32000
63000
1300
NUTR50110
50
110
32
30
60
1.1
0.6
10000
161000
76000
121000
121000
121000
1300
Findbearing.com supplies high quality NUTR yoke type track roller.
Note:
– NUTR series yoke type track roller is double row full complement roller bearing.
– The outer ring is guided by the retaining edge.
– All the parts of the bearing are pressed into the sealing cage of the outer ring and formed a complement unit.
– The sealing, together with the thrust retaining ring create an efficient gap sealing.
– Very heavy load can be used on this yoke type track rollers.
– Due to the axial guidance of the rollers, this type of bearing can accept axial impact on high rotating speed.
– When the bearing outer ring(with outer cylindrical surface) is fitted with general bearings in the seat holes, basic stable load C and Co should be used while used as rolling wheel, rated load Cw and COW should be used.
– The rotating speed will increase by about 30% if oil lubricant is used.
You might also be interested in our other products:
M   |   SN   |   DX  |   FC  |  FCB   |   HK-RS   | HK-2RS