GEEW (GE – LO) Plain bearing catalogue list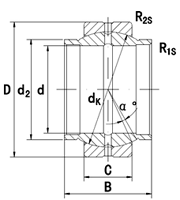 ---
Other Bearing NO.
Dimension
Load ratings
SPEC.1
SPEC.2
SPEC.3
d
d2
D
B
C
dk
R1s
R2s
α≈
Cr
Cor
Mass
GE12LO
GEEW12ES
GEG12ES
12
15.5
22
12
7
18
0.3
0.3
4
10
54
0.022
GE15LO
GEEW15ES
GEG15ES
15
19
26
15
9
22
0.3
0.3
5
16
84
0.031
GE16LO
GEEW16ES
GEG16ES
16
20
28
16
9
23
0.3
0.3
4
17.6
88
0.035
GE17LO
GEEW17ES
GEG17ES
17
21
30
17
10
25
0.3
0.3
7
21
106
0.044
GE20LO
GEEW20ES
GEG20ES
20
25
35
20
12
29
0.3
0.3
4
30
146
0.07
GE25LO
GEEW25ES
GEG25ES
25
30.5
42
25
16
35.5
0.6
0.6
4
48
240
0.131
GE30LO
GEEW30ES
GEG30ES
30
34
47
30
18
40.7
0.6
0.6
4
62
310
0.168
GE32LO
GEEW32ES
GEG32ES
32
37
52
32
18
44
0.6
1
4
67
335
0.182
GE35LO
GEEW35ES
GEG35ES
35
40
55
35
20
47
0.6
1
4
79
399
0.253
GE40LO
GEEW40ES
GEG40ES
40
46
62
40
22
53
0.6
1
4
100
500
0.338
GE45LO
GEEW45ES
GEG45ES
45
52
68
45
25
60
0.6
1
4
127
637
0.481
GE50LO
GEEW50ES
GEG50ES
50
57
75
50
28
66
0.6
1
4
156
780
0.55
GE60LO
GEEW60ES
GEG60ES
60
68
90
60
36
80
1
1
4
245
1220
1.15
GE63LO
GEEW63ES
GEG63ES
63
71.5
95
63
36
83
1
1
4
255
1270
1.25
GE70LO
GEEW70ES
GEG70ES
70
78
105
70
40
92
1
1
4
315
1560
1.71
GE80LO
GEEW80ES
GEG80ES
80
91
120
80
45
105
1
1
4
400
2000
2.39
GE90LO
GEEW90ES
GEG90ES
90
99
130
90
50
115
1
1
4
488
2440
3.21
GE100LO
GEEW100ES
GEG100ES
100
113
150
100
55
130
1
1
4
607
3030
4.8
GE110LO
GEEW110ES
GEG110ES
110
124
160
110
55
140
1
1
4
654
3270
5.78
GE125LO
GEEW125ES
GEG125ES
125
138
180
125
70
160
1
1
4
950
4750
8.49
GE160LO
GEG160ES
160
177
230
160
80
200
1
1
4
1360
6800
16.5
GE200LO
GEG200ES
200
221
290
200
100
250
1.1
1.1
4
2120
10600
32.1
GE250LO
GEG250ES
250
317
400
250
120
350
1.1
1.1
4
3750
17800
99.0
GE320LO
GEG320ES
320
405
520
320
160
450
1.1
1.1
4
6200
30500
225
Findbearing.com supplies good quality GE – LO, GEEW series plain bearing.
Note:
– Outer ring with split gap in axial direction.
– Inner ring extended design on both sides.
– RS seals in both sides
– Phosphating treatment on both inner ring and outer ring.
– Lubrication grooves and holes on outer and inner ring.
You might also be interested in our other products:
GE   |   GEBK   | GE-FW   |  GE-FW2RS   |  GEGZ   |  GEGZ-HS   |  GE-HO2RS 
Rod-ends  |   Bearing unit  | Self-aligning ball bearing   |  Cylindrical roller bearing